Brian "Cat" Sumner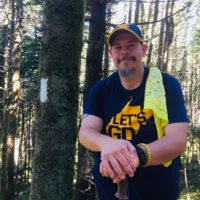 I was born and raised in Beckley, WV.  A couple of early memories I have are going to Church every Sunday and listening to the radio every morning!  I graduated from Shady Spring High School and later attended Beckley College earning a degree in Broadcasting Technology.
I met my beautiful bride Lorren in a junior high choir class.  We became good friends and remain best friends to this day.  We were married in 1988 and LOVE to hike as much we can.
My radio journey started in 1986 and I'm incredibly blessed that all these years later I still get to hang out with you and play great music and share stories!!!
I love a good cup of coffee, a great book and watching WVU Mountaineer football….go 'EER's!!!  I also love the fall, it's my favorite time of year.