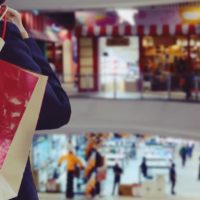 According to a report published Sunday by the credit card company Mastercard, retail sales during the holiday season jumped 8.5% compared with 2020  E-commerce sales were up 11% in 2021 for the holiday season running from Nov. 1 to Dec. 24 compared to the previous year, and online sales were up a massive 61% from 2019, before the COVID-19 pandemic led to a historic increase in shopping online.  Online shopping made up 20.9% of all retail sales in 2021, up from just 14.6% in 2019 while the e-commerce boom rages, according to the report.
Steve Sadove, senior adviser for Mastercard, said in a statement that the growth in holiday sales happened early because of "conversations surrounding supply chain and labor supply issues.  Consumers splurged throughout the season, with apparel and department stores experiencing strong growth as shoppers sought to put their best-dressed foot forward."
The Mastercard report noted that jewelry sales increased 32% percent in 2021 from 2020, and are up 26.2% compared to 2019. Apparel sales are up 47.3% in 2021 compared to 2020, and up 29% compared to 2019.
Editorial credit: Sonpichit Salangsing / Shutterstock.com