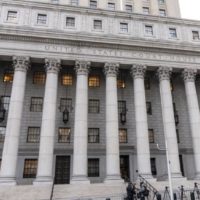 Ghislaine Maxwell — British socialite and associate of wealthy financier Jeffrey Epstein — was convicted of federal sex trafficking charges for her role in recruiting and grooming teenage girls to be sexually abused by her close confidant, Epstein. A jury of six men and six women reached a verdict in the New York City sex trafficking trial on Wednesday after six days of deliberations.
The jury weighed evidence and testimony from about 30 witnesses over three weeks that alleged Maxwell played a pivotal part in recruiting and grooming teenage girls to be sexually abused Epstein. Maxwell faced six federal counts that together carry a maximum sentence of 70 years: sex trafficking of a minor, enticing a minor to travel to engage in illegal sex acts, transporting a minor with the intent to engage in criminal sexual activity and three related counts of conspiracy. Maxwell, who turned 60 on Christmas Day, has been jailed since her arrest in July 2020.
Maxwell's defense team argued that it was the financier who pulled the strings and that federal prosecutors only sought to take her down because Epstein, a convicted sex abuser, committed suicide by hanging n a Manhattan jail cell two years ago as he awaited trial on sex trafficking charges. Prosecutors argued that Maxwell was not an unwilling participant, and was known at Epstein's Florida estate as the "lady of the house." Numerous women before Epstein's death came forward with allegations that he sexually abused them, with some claiming Maxwell helped to traffic them to other powerful men, however prosecutors focused their case on the testimony of four accusers. Those women provided graphic accounts of how they say Maxwell "groomed" them as young girls to have sex with Epstein. Maxwell denied helping recruit and engage in the trafficking of young girls, mostly in the 1990s.
Maxwell was charged with six counts for alleged acts committed between 1994 and 1997, and then allegedly lying to investigators in 2016. She was also charged with perjury, although those counts will be tried separately.
Editorial credit: lev radin / Shutterstock.com