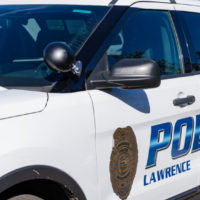 Authorities confirmed that one person was fatally shot and five others were injured by gunfire at a house party in Lawrence, Massachusetts early Sunday morning. Lawrence lies about 25 miles (40 kilometers) north of Boston, and has a population of about 89,000,
According to statement from Essex District Attorney Paul Tucker's office, police responded to a disturbance call at a third-floor apartment in Lawrence at about 3 a.m., which is when they found the victims. All six victims were transported to Lawrence General Hospital, where one of them was pronounced dead. Two of the remaining victims were flown to Boston hospitals by medical helicopter to receive additional treatment, according to Tucker. Names and other information about the victims is being withheld until their next of kin are notified.
At this time, investigators believe the shootings are not a random act of violence, but did not disclose what may have sparked the shooting. No arrests have been made as of press time, and state and city police are continuing to investigate.
Editorial credit: Chad Robertson Media / Shutterstock.com